Smith 2016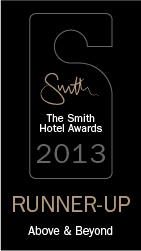 We are proud to been voted into the Top Ten of the Above & Beyond category of the Smith Hotel Awards 2013. With more than 900 hotels in the collection and over 47,000 members of the public who voted from all over the world, Paradise Island Villas, made it to Top Ten Hotels.
Above & Beyond
Among our favourite Smith stays are those made even more special by seamless service and
generosity of spirit - where going the extra mile is the rule, not the exception. As well as going
above and beyond expectations (a drink on the house, the best table for your birthday or a
snack for the journey home), the top-10 hotels in the Above & Beyond category know exactly
how to provide the feel-good factor - they're natural hosts and constantly exceed expectations.